FAR WEST ELECTRIC PROVIDES PROFESSIONAL ELECTRICAL SERVICES IN HIDDEN MEADOWS, CA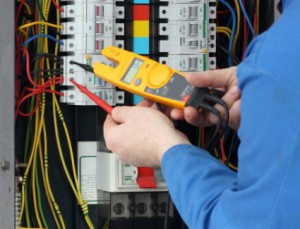 Hidden Meadows is a census-designated place near Escondido in San Diego County, California.  The population was 3,485 at the 2010 census, up from 3,463 at the 2000 census.
If you are a property owner in the Hidden Meadows area, you understand how important it is that your home is up to date on its electrical wiring.
Bad wiring can cause fires and endanger you or your loved ones.  The last thing you want is to leave it unchecked when a little bit of preventive maintenance could save lives.
Many homeowners don't understand that your electrical system is a major functioning system of the home.  When one area of the system is weak, it affects the rest.
If you need an Electrician, Far West Electric is your Hidden Meadows Electrician.
Wiring and Panel Inspections and Upgrades in Hidden Meadows
At Far West Electric, we understand that you need an electrician you can count on to provide you with quality services.  Located in Escondido, we are the areas favorite team of electricians.
It is important to have your electrical systems inspected at least once per year.  Your wiring may no longer comply with local code requirements.  Code enforcement is provided by local authorities so that materials and systems in your home meet at least minimum requirements that protect you from disaster.
Fire is one of the most hazardous side effects of poor wiring systems, but your personal property can also be experiencing stresses that will damage it.  Just one bad wire can cause your expensive electronic equipment to short out and be damaged beyond repair.
Interior and Exterior Lighting Options for Your Hidden Meadows Home or Business
Lighting has come a long way over the years to offer new design elements as well as new technology.  There are many options available that can enhance the curb appeal of your home or provide you with better lighting to see by inside.
If you take a look around your home, you may find you are lacking in one of those areas.  Whether your home needs a few more security lights or you want to enhance your curb appeal, we can help you at Far West Electric.
Hidden Meadows Electrical Vehicle Charging Station Installations or Repairs
If you need to have an electrical vehicle charging station installed for your new vehicle, you have come to the right place.  We are professional electricians certified by Bosch to install quality charging stations for your home.  When it comes to charging station installation, Far West Electric is the name you can trust.
What Hidden Meadows Homeowners Are Saying About Us
Far West Electric appreciates your feedback. Please give us more time to collect your reviews and they will be displayed below.
---
Recent Articles
Electrical Safety Warning Signs

It is hard to imagine an everyday task that we do that is in no way assisted by electricity. Without a doubt, your electrical system is one of the most important features of your home or business. This marvelous convenience is largely responsible for the high quality of life that we enjoy and for sustaining...

Read More
Why Electrical Repairs Should Never Be A DIY Project

Do-It-Yourself projects are more popular than ever, and it's not difficult to see why. They allow homeowners the benefits of improving their home while focusing on activities they enjoy, all for a lower cost than hiring a professional. They're satisfying, they can be fun, and they'll leave your home in better shape. However, there are...

Read More
If you are looking for a Hidden Meadows Electrician then please call 760-533-6307 or complete our online request form.