About Us – Far West Electric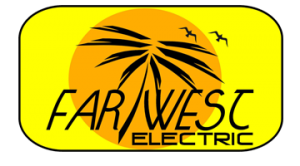 Far West Electric was established in 2007 and ever since has been the electricians to go to for residential and commercial services such as repairs, installations and inspections. We have experience techs that have the combined expertise of 19 years.
Our name is a name that you can trust for wiring replacements that can keep your home safe and free of electrical problems. The last thing that you look forward to, after a long day at work, is a house fire caused by faulty wiring.
Almost everything we do falls under electrical repairs. Repairs are necessary in keeping your electrical safe and current (no pun intended). Being up to date with your home or businesses' electrical system means that you're doing what needs to be in order to prevent faulty electrical.
Far West Electric also offers design & build services for commercial businesses in Escondido. Our design team will create an electrical system for your business that is efficient and functional. You're always in good hands with Far West Electric.
We can meet your commercial electrical needs with tenant improvements too. What are tenant improvements? They are electrical repairs and inspections that must be done in order to stay up to date with city ordinances and licensing.
If you're in need of qualified electricians that are trained in all facets of electrical work then contact the pros at Far West Electric. We take all of our jobs seriously as we pay close attention to detail and keep every project as safe as possible.
Our Electrical Services Include:
Recent Articles
3 Excellent Electrical Upgrades To Make Around Your Home

Now that summer has finally arrived, the prime season for home improvements has officially begun. With so many potential projects on your plate this summer, it can be difficult deciding between what needs to get done in the time available, and what can probably wait until later. As the season starts to shift into high...

Read More
If you are looking for more information about a experienced Electrician then please call 760-533-6307 or complete our online request form.