High Efficiency Retrofits – Far West Electric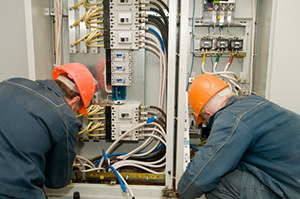 If you have older equipment in your business then it is obviously going to need high efficiency retrofits from Far West Electric. Retrofitting is the process of updating older electrical equipment in the industrial world.
Retrofitting adds to the functionality of machinery including the motor controls as well as the circuit breakers. When you require better performance out of you machinery, in order to stay up to code or to meet expansion, call Far West Electric.
Steps To Do Retrofitting in Most Industrial Businesses:
Turn all power off – It is common to turn off the power before any construction begins. We take the power from the breaker as well as the fuse to ensure our safety.
Seek coded wires – Many wires are color coded for easier replacement and repairs. Black cable wires are for switches. Also, the gauge of wire that you need all depends on the job you're doing.
Study the wiring design – Getting a grasp of the wiring system allows for easier access. At Far West Electric we have years of experience in retrofitting.
Escondido commercial industrial owners know that we're the number one electricians in the area do to our capability to get the job done right and on time. We realize that your time is money so every job that we do gets done fast but right!
Tools & Materials That We Use in Our Retrofitting Jobs:
Cables
Screwdriver
Switch boxes
Switches
Cable connectors
Side-cutter pliers
Wire-nuts
Stud finder
Wire
Ripping bars
In a plant, machine tools are of the utmost important items. They are also the most costly to repair due to the thoroughness that's required to repair them. They often are capital investments for most companies that enterprise on them.
Their success all relies on the workmanship or the skilled electricians at Far West Electric. Before the retrofit project takes place, we research ways to make the machine more effective and successful for the reputation of the plant.
A retrofit is less costly than replacing the entire machine. There are some pieces of machinery that cost thousands of dollars and are the plant's main tool. But when they no longer work they become nothing but heavy paperweights.
You can benefit from a high efficiency retrofit when you get Far West Electric to do the job for you. Your business depends on working machinery that is fully upgrades to bring you much deserved success. We feel that performance is everything when it comes to your business.
Recent Articles
3 Excellent Electrical Upgrades To Make Around Your Home

Now that summer has finally arrived, the prime season for home improvements has officially begun. With so many potential projects on your plate this summer, it can be difficult deciding between what needs to get done in the time available, and what can probably wait until later. As the season starts to shift into high...

Read More
Angie's List Super Service Award Press Release

Far West Electric Earns Esteemed 2014 Angie's List Super Service Award Award reflects company's consistently high level of customer service Far West Electric has earned the service industry's coveted Angie's List Super Service Award, reflecting an exemplary year of service provided to members of the local services marketplace and consumer review site in 2014. "Only...

Read More
If you are looking for High Efficiency Retrofits then please call 760-533-6307 or complete our online request form.