New Construction Electrical Contractor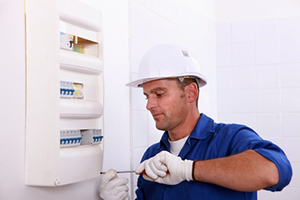 Building a new home and need to have it wired by professionals? Well you'll have to take advantage of our new construction service at Far West Electric. When construction demands electrical work, you'll be in good hands.
When setting off to build a new home, it's important to have all of your wiring and other electrical work up to code. The strict standards are set forth by the state in which they are imposed in which pretty much covers all 50 states.
The risks that wiring creates to a new building make it very vulnerable to fires if not installed correctly. Faulty wiring jobs happen all the time. If they are not done by licensed professionals, you may be in for trouble.
Here are some ways to find a reputable Escondido electrical contractor:
Research
Experience
Word of mouth
Ads in newspaper
Before we run the wires into your new building, there are some things that we do first. To let you know what's going on with your installation, here are the details:
A wiring diagram is designed
The outlets, switches and fixture boxes are attached to the studs
The next step is determining how many outlets and switches will be allowed to run on one circuit
1-inch holes are then drilled in the center of the studs where your wires will travel through
The wiring process begins after all the pre work is completed
Here is the breakdown of the wiring process. Although we do not recommend doing it on your own, you should be made aware of the process and the steps that are taken by professionals:
The breaker box is set in an area that makes it accessible
Set up wire near the breaker box and start pulling it out to each circuit
Cut the wire after extending it
Utilize strippers to cut the covering off part of the wire and attach
Install the circuits for each individual circuit
Run all non-electrical wiring such as the cable and phone
Tips for new wiring
Never attempt to wire your own home. If you do not have any working knowledge of electrical circuits, there is no need to be messing with it. This is why you need professionals at hand. Call Far West Electric and we'll set your new home up with an electrical system.
Another thing to NEVER do is splice wires between the junction boxes. Fires are a result of bad wiring gone wrong. A spliced wire is a live wire that, when in contact with something else, can be very dangerous.
Your new home or building will take the use of a professional electrician to make it function properly. We offer new construction services in California for new homes and commercial dwellings. Call us today so that we can start designing.
Recent Articles
Most Common San Marcos Electrical Issues

When buying a home in San Marcos, it can be difficult to know everything you need to, which often means there could be existing electrical problems that you don't know about. Some of these can even get past a thorough Electrical Safety Inspection because they are in the walls or underground. Even if you have...

Read More
If you are looking for New Construction Electrical Services then please call 760-533-6307 or complete our online request form.