Wanting an Electrician in Carlsbad?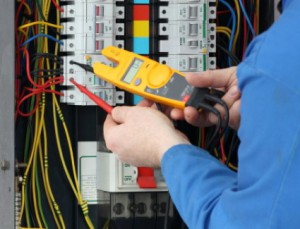 If you need any type of electrical work done in Carlsbad, give the team at Far West Electric a call. We can provide you with tenant improvement for your apartment building. Reach out to us today and let us improve your living situation.
From start to finish, our Carlsbad Electrical Contractors work with you, the homeowner, every step of the way. If you need help with any kind of electrical problem then call the professional Electricians at Far West Electric.
If you need an Electrician, Far West Electric is your Carlsbad Electrician.
Carlsbad Electrician
Apartments need to be kept up to date in order to be inhabited. Managers can call Far West Electric for tenant improvements. We will make all the necessary repairs and installations in order to keep your building up to code.
One of the things we do is change outside lights. Outside lighting is of the utmost importance for complexes as a lack of proper illumination is a liability waiting to happen. We'll keep your tenants safe and your complex well-lit.
Another option is to have the wiring inspected. Outdated wiring is not legal and can result in the whole complex burning down. For a little bit of money you can avoid all of that and so much more. The condition of your building depends on qualified electricians.
Carlsbad Electrical Inspection
Before we do any type of electric inspection, we first go over our checklist. This gives us a clear indication of what needs to be attended to and done in order to stay up to code. Our inspectors are licensed, bonded and insured for your protection.
Here is part of our checklist for electrical inspections:
Service panels – These have to be labeled for insurance purposes. Appropriate sized breakers should only be in these panels for maximum current.
Kitchen electrical – Most kitchens run on about 20-amps. This is for smaller kitchen areas. Obviously bigger ones require more.
Bathroom electrical – A bathroom should be equipped with proper outlets due to the amount of moisture in them. A GFCI outlet has the necessary options for rooms that see water and moisture buildup.
Bedroom electrical – Al bedroom closets should be equipped with adequate lighting as well as working receptacles for your safety.
Carlsbad Electrical Repairs
Are your lights flickering? Do you smell smoke coming out of your outlets? If you do you may be experiencing lighting problems. Your wires are hidden in the ceiling and if they are older, they could be smoldering.
Smoldering wires will take some time to eat through, but why risk it? You can call Far West Electric and we'll be out immediately. There's no reason to put your family at risk whenever you can have lighting repairs done conveniently.
The electricians at Far West Electric can repair the exterior or interior lighting. We have the experience of 19 years to put into our lighting repair jobs so call us today!
Recent Articles
Angie's List Super Service Award Press Release

Far West Electric Earns Esteemed 2014 Angie's List Super Service Award Award reflects company's consistently high level of customer service Far West Electric has earned the service industry's coveted Angie's List Super Service Award, reflecting an exemplary year of service provided to members of the local services marketplace and consumer review site in 2014. "Only...

Read More
If you are looking for a Carlsbad Electrician then please call 760-533-6307 or complete our online request form.