Do You Need an Electrician in Escondido?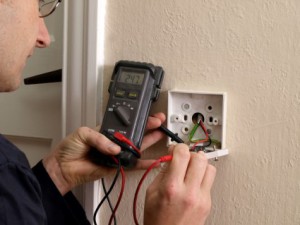 You can enjoy an electrician from Far West Electric any time for anything from repairs to professional installation. We practice safety in each job that we do in order to reduce the risk of fire and other types of electrical injuries.
Code Violations are caused by DIY homeowners or contractors that cut corners to finish the job. Our electrical wiring contractors are highly trained and qualified to perform home electrical wiring installations and repairs as well as whole home electrical re-wiring services. Call Far West Electric today and see what a professional can do!
If you need an Electrician, Far West Electric is your Escondido Electrician.
Escondido Electrician
Our techs can do provide many services for your home or office. The one thing that we focus on most is safety. Safety ensures that your dwelling is left without risk. The proper handling of electricity should only be done by a professional who is well trained.
By hiring our technicians, you're getting 19 years of expertise. With all that experience it's no wonder why safety is a major focal point of each job that we do. There are lots of contractors out there practicing without knowing basic safety protocols.
Incomplete or half-witted electrical jobs are very vulnerable to fires. A fire can result instantly from electrical malpractice. You don't have to worry about this whenever you call for help from the experts from Far West Electric.
Escondido Electrical Inspection
A safety is a main priority of ours we implement it into our inspections. Inspections are needed to check for possible problems in your home or business. Ensuring that we are keeping up with current technologies are another reason that our Escondido inspections are so vital.
Benefits of electrical inspections:
Keeps home/business safe and free of problems
Low cost
Convenient
You too can benefit from our inspections. All you need to do is pick up your phone and give us a call. It's that simple! Your home deserves to be in working order at all times. It can't without a proper inspection from our professionals.
Escondido Electrical Repairs
You go to turn on the dimmer switch to your bedroom, to add some mood to the room, and all you get is darkness. There is no tone of light nor is there working light for that matter. What do you do? Here are some tips for dimmer switch problems:
Shut breaker box off
Check for smoke in the home
Call Far West Electric
While you're waiting, make sure that you have taken into account of where the problems are. If one dimmer switch is out then there may be more possibly. Once our technicians arrive, alert them to the problem areas.
Our electricians will avert the emergency in no time at all. Your problems will seem so miniscule after we've gotten to them. Call for repairs that stick by the experts who have been repairing dimmer switches, in the area, for the last couple years.
What Escondido Homeowners Are Saying About Us
Far West Electric is Rated: 5 / 5
based on these 6 happy customer reviews.
---
"Noah is a professional beyond words. We were very satisfied with the job that Noah performed, he was prompt and reasonable. We would defiantly recommend Far West Electric to all. Thank you, Laura & Danny, Escondido, CA"
---
"Noah from Far West was very puntual, polite and knowledgable. He fixed the problem at a very reasonable price and in a timely manner. "
---
"I highly recommend this company! Noah & his team not only were affordable, they were efficient & clean! All of my work was done perfectly I am so happy I finally found such a wonderful electrician. Thank you Far West Electric!"
---
"Noah, with Far West Electrical did an outstanding job troubleshooting our lighting fixture in the kitchen. He arrived on time and explained what was wrong with the lighting fixture and fixed the light. I would highly recommend Noah and his company to other's as they were friendly, quick and knowledgeable. I had a good experience with this electrician."
---
"Noah answered the phone himself and was over here within less than 2 hours. His prices were outstanding and the service was great, even after I tacked on an additional job that he had not planned for. They even cleaned up the tiniest wires off the floor when they were finished! I was impressed."
---
"Noah has done a job for us before and it turned out beautifully. It was a more difficult ceiling fan installation, but he expertly trouble-shot the issues and I was very pleased. So when my lights began flickering and an outlet felt really hot, I immediately called Noah and made an appointment. He was right on time, and found my electric was unsafe. He shut down the power and worked on replacing two panels over the next day. I was so happy he found the problem and fixed it at a very reasonable price. He likely saved my home from a fire! Thank you Noah! I highly recommend him for any job, big or small. A true and honest professional!"
---
Recent Articles
Electrical Safety Warning Signs

It is hard to imagine an everyday task that we do that is in no way assisted by electricity. Without a doubt, your electrical system is one of the most important features of your home or business. This marvelous convenience is largely responsible for the high quality of life that we enjoy and for sustaining...

Read More
Why Electrical Repairs Should Never Be A DIY Project

Do-It-Yourself projects are more popular than ever, and it's not difficult to see why. They allow homeowners the benefits of improving their home while focusing on activities they enjoy, all for a lower cost than hiring a professional. They're satisfying, they can be fun, and they'll leave your home in better shape. However, there are...

Read More
If you are looking for a Escondido Electrician then please call 760-533-6307 or complete our online request form.