Inquiring About an Electrician in San Marcos?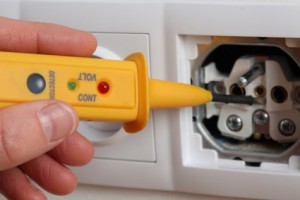 There are 80,000 people living in the town of San Marcos which means there is a need for all types of electrical work to be done. If you're in the area then please call Far West Electric for electrical wiring because old wiring is nothing but a potential danger.
Many homeowners in San Marcos neglect to properly maintain their electrical systems, let alone schedule for routine electrical inspections. When you have an electrical inspection, there are certain things that our San Marcos electricians will examine and include in a home inspection report.
If you need an Electrician, Far West Electric is your San Marcos Electrician.
San Marcos Electrician
Our technicians can check out your wiring and tell you what type it is and if it needs to be replaced or not. Wiring such as knob & tube was installed in home pre 1950s and is no longer a common type of wiring system found in homes today.
Although it still may exist in some home it is going to need to be replaced eventually. Older wiring has corroded coverings that when bumped against something else could result in a house fire. A fire would mean that you lose everything!
Knob & tube wiring offers no ground wire which means that it cannot service any of the three pronged plugs found in a majority of homes today. This wiring is now considered obsolete and if it's in your home, it will needs replaced by our technicians.
San Marcos Electrical Inspection
You cannot see your electricity working but you can see your lights on and appliances running which means that your electricity if flowing effectively. You'll need to keep it running in order to prevent pricy electrical repairs. That's why you should have it inspected.
Our skilled electricians will look for the following:
Exposed wires
Octopus outlets
Cords running underneath your carpeting
Fire detectors not working
You'll benefit from one of these inspections as they should be done yearly. Think of them like an inspection for your vehicle. In order to keep up with today's vehicle standards you're going to need a qualified mechanic to get your vehicle to that point just like you need a well-trained professional to inspect your electrical system.
San Marcos Electrical Repairs
For better repairs done right, you need Far West Electric. We have the experience to get your panel box working effectively again. Older panel boxes do not offer the same as new ones. We can check yours for repairs that may be made to them or replace what can be.
The fate of your home depends on quality electrical work. You can always trust that you are in good hands with Far West Electric. We service every project as if it were in our homes as we treat it with care and the respect it deserves.
Let our electricians deliver you a panel upgrade, so that the flow of electricity is moderated into your home. When it comes to quality craftsmanship, you can't beat Far West Electric!
What San Marcos Homeowners Are Saying About Us
Far West Electric is Rated: 5 / 5
based on these 2 happy customer reviews.
---
"Noah arrived on time and did a GREAT job. I would highly recommend this professional and friendly electrician."
---
"I was very impressed with Noah's professionalism and value – he did what he said he was going to do and did it on time. He was very nice, did a great job, and I would highly recommend him."
---
Recent Articles
If you are looking for a San Marcos Electrician then please call 760-533-6307 or complete our online request form.