Home Generators Installation and Services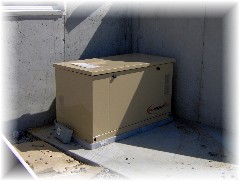 If you have ever been stranded without power by a storm before then you know what it's like to be without just watching your food rot and the home getting warmer by the minute. A home generator can solve your problems very easily. Just call Far West Electric and we'll install yours.
These units can supply the necessary energy to your home during an emergency such as a power outage. You can continue to live life as you normally would during such an emergency. You'll be able to work your lights, microwave, stove and refrigerator.
The way a generator works is by converting mechanical energy into electrical. This is completed through a magnetic field. You can learn more about our handy units just by calling 760-533-6307 . We want to ensure your safety at all times.
The Benefits of a Escondido Generator are the Following:
Auto start – When the power goes out, your unit will automatically sense that the power is out and turn on. There is no flick of a switch for the units. The unit will shut itself down once the power comes back on.
Fast connection – You don't need to do anything except have it installed. Your unit will be alerted that it's okay after it has come up to speed.
Shorter outage times – You won't be in the dark for very long. Our units are instantaneous. A return on them is about 30 seconds or less. That's how long you'll be exposed to the dark.
Safe – You don't have to worry about getting shocked since there is nothing to touch. Also, there is no risk of injury as the unit is already installed and does not have a pull cord.
All appliances and lighting will work – You won't just have lights you'll have everything that you need to stay safe and free from dangers.
Communication with the outside world is necessary during times of danger. Whether it's a hurricane, snow storm, earthquake or any other type of danger, you'll be able to communicate through various devices such as the radio, TV and scanner.
No more worry about the battery dying out on your cellular phone or the radio going dead. You'll be able to have constant use of energy. This is good for situations which you'd require medical professionals such as paramedics.
If you think that you'd benefit from a home generator call Far West Electric. We'll get yours in as soon as possible. Don't compromise you or your family's safety any longer. You'll appreciate your new unit after the next power outage hits.
Recent Articles
Angie's List Super Service Award Press Release

Far West Electric Earns Esteemed 2014 Angie's List Super Service Award Award reflects company's consistently high level of customer service Far West Electric has earned the service industry's coveted Angie's List Super Service Award, reflecting an exemplary year of service provided to members of the local services marketplace and consumer review site in 2014. "Only...

Read More
3 Electrical Safety Tips For The Fall

Now that fall is officially upon us, most homeowners are taking some time to get out of the house and enjoy the many different things that make the fall season so enjoyable. Whether you enjoy the changing colors of the leaves, the milder temperatures, or all of the upcoming holidays, fall really does have something...

Read More
If you are looking for a Escondido home generator contractor then please call 760-533-6307 or complete our online request form.