Panel Upgrades and Replacements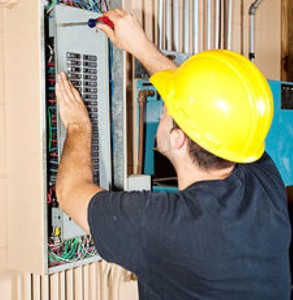 Is your panel box ancient? Maybe what you need is a panel upgrade from the experts at Far West Electric. For many years we have been keeping the current flowing in many homes across California.
Your home's panel box is one of the most important appliances in the home although you don't actually use it. It carries electrical current all through the home and prevents circuits from blowing. If your panel box isn't working effectively, it needs modified by professionals.
Minor to major problems can stem from an electrical box that isn't upgraded. Don't become a victim to your home's electrical problems. Call Far West Electric and let us serve you through upgrades and other fine electrical services.
Why should you have your Escondido electrical box upgraded?
There are two reasons why a majority of homeowners have chose to have their electrical boxes upgraded:
Insurance purposes
Power issues
Before an insurance carrier will present you with homeowners insurance, your home will have to be inspected for any problems. This means everything from the plumbing to the electrical will be checked out. A bad electrical box is a ticking time bomb in the home and cannot be insured.
On the other hand, if you're experiencing power issues such as flickering lights or lighting blowing out at random times of the day, then you're going to need you box upgraded. An unsafe box is a fire risk which is why a majority of homeowners switch to new ones.
When is a good time to have an electrical box upgraded?
It's best to have your electrical system inspected every year. This will help notate whether you are having problems or not. Although you can hire professionals to inspect the home, you should be looking for dangers on your own.
Here are some dangers to watch out for:
Flickering lights
No lights at all
Smell of burning plastic
If you are experiencing any of those problems, don't take matters into your own hands. Cal lFar West Electric for professional upgrades. It's not worth losing your home. We'll upgrade your electrical box and inspect the rest of your home's electrical system.
Of course cost has to be factored in on the upgrade task. There are some considerations that you'll need to make in order to keep costs low and make the job affordable:
Electrical panels come in various amp sizes :100, 125, 150 and 200 amps
What size panel do you need? Most residential panels are 200 amps
Copper or aluminum conductors is something else to consider
Getting your home safe takes a lot of effort on your behalf. When you need professional panel upgrades, be sure and call Far West Electric. We're the experienced electricians that are able to do all types of electrical upgrades to the home.
Recent Articles
If you are looking for a Escondido panel upgrade contractor then please call 760-533-6307 or complete our online request form.