Wiring and Electrical Wiring Repairs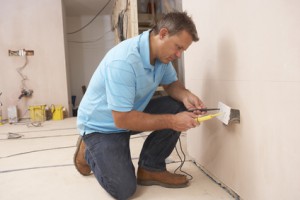 There are different types of electrical wiring for the home today as opposed to twenty years ago where there was only one type as it was very fragile and dangerous. Call Far West Electric for our wiring services and you'll learn what's good and bad about yours.
Since the very beginning, a home's wiring has undone some major renovations. It used to be strung through trees and into homes. Some types of older wiring is still used in homes today but not as much. Modern wiring has made it possible to keep homes safer.
Wiring is used in appliances that deliver an electrical signal such as the phone, stereo and other communicable devices. What that wiring goes bad, it's time to all in electricians that can either repair or replace the old wiring.
Older homes equal older wiring. The older that the wiring is the more delicate it becomes. If your home is older, and your lights are starting to flicker, call us. Flickering lights are just the beginning to your electrical problems.
You can always trust the electrical services of Far West Electric. For over five years we have been helping the community of Escondido with electrical and wiring problems. Our goal is to make sure that your home is left in the same, if not better, shape that it was before we arrived.
Types of Wiring in Homes:
Aluminum – At one time this wiring was used in homes all across the United States but today the wiring still survives in some homes but heats & contracts quickly which poses a fire risk.
Copper – Now it's the norm for many homes in California. Copper is an excellent conductor for electricity and does not pose any electrical hazards in the home.
Wiring comes in a variety of sizes. The size is limited to the amount of power it's intended to carry. You'll find that the lines, that deliver the main source of power to your home, are as thick as the human thumb.
Now wiring that delivers power to your dyer and stove is smaller in diameter; about as thick as a pencil. When more than one wire is bound, its braided covering is what's known as the jacket or as some like to refer to it, shield.
The future of many homes wiring systems all could rely on fiberoptics which do not employ the use of copper wires. Fiberoptics carries light pulses in a reflective jacket of glass composites. This ends the desire for heavy & bulky wiring.
For electrical wiring services that cannot be beat, try Far West Electric. No other contractor in the area can keep your home as safe as we can. Call today and start living without wiring problems. You and your home deserve it.
Recent Articles
Why Electrical Repairs Should Never Be A DIY Project

Do-It-Yourself projects are more popular than ever, and it's not difficult to see why. They allow homeowners the benefits of improving their home while focusing on activities they enjoy, all for a lower cost than hiring a professional. They're satisfying, they can be fun, and they'll leave your home in better shape. However, there are...

Read More
Most Common San Marcos Electrical Issues

When buying a home in San Marcos, it can be difficult to know everything you need to, which often means there could be existing electrical problems that you don't know about. Some of these can even get past a thorough Electrical Safety Inspection because they are in the walls or underground. Even if you have...

Read More
If you are looking for a Escondido electrical wiring contractor then please call 760-533-6307 or complete our online request form.