What Surge Protection Means for you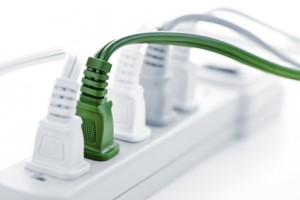 Maybe the reason that your circuits keep blowing is that there is too much current running through them. You need surge protection from Far West Electric. You'll no longer have to worry about blowing and buying fuses any longer.
Many homeowners are not even aware that these protections devices exist or realize what they are. They are pieces of electrical equipment that are designed to prevent voltage spikes. A voltage spike can cause a fire n the home or blow an appliance.
The surge device regulates voltage that is delivered to an electrical device. It blocks or grounds the voltage in order to make your electrical equipment safe to use. Spikes have been known to be caused by the following:
Lighting
Power Outages
Short Circuits
Tripped Circuit Breakers
The Benefits of a Escondido Surge Protector
Cuts down on maintenance costs
Drastically reduces energy bills
Reduces equipment down
Eliminates the need to buy new electrical equipment
Most of us have encountered power outages before. If you own either a home or a business, then you know what it's like to have an overload to your appliances. Picking up and starting all over again isn't always the best option.
When we hear the word "surge device" the first thing that comes to mind, for most of us, is those power strips we plug our home computers into. They are very similar to a surge device but on a much larger scale. Our devices are security for the entire home.
In order to [prevent losing your electronic devices such as your video game system, TV radio and others, it's important to import two lines of defense in your home. Don't let a little lighting storm be the reason you need to buy a new TV.
Good quality surge devices for the entire home will run anywhere between $200 and $700 depending the size of the home or office. Contact your local electrical supplier for more details regarding these devices.
Did you know that each home suffers through around 300 potential electrical damages per year? That one time could ruin all of your electrical devices. Most of what we have in the home are very sensitive to surges such as your HVAC unit and kitchen appliances.
If you are in the market for a surge protection device then call Far West Electric. You won't have to suffer any longer from the three D's of surge issues: degradation, destruction and downtime. Your home or work area can now become more efficient through one of these devices.
Recent Articles
If you are looking for a Escondido surge protection contractor then please call 760-533-6307 or complete our online request form.