Custom Home Theater Installation Services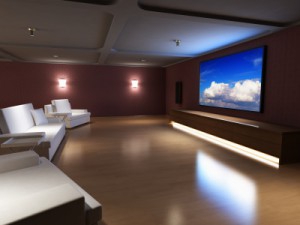 Before you can sit and enjoy your favorite movie, call Far West Electric for home theater installation. Our installations are done professionally. In no time you'll be enjoying your home theater with your family members.
Home theater systems are expensive so why leave it sitting in the box when you can hire someone to install it the right way? Dealing with multiple wires and drilling into the wall can end up a project that's best left for another day.
To get the most out of your investment, call Far West Electric. We can help house your speakers in the right places as well as connect your receiver. Finding out what goes where is nothing than a huge headache that you don't need.
Components To A Escondido Home Theater System
Receiver
Sub woofer
Front , mid and back speakers
In order to have maximum sound, you'll need to connect the receiver. You can hook up your receiver to a TV, computer monitor any other primary output device. The receiver is the central force behind theater sound and DVD output.
Next connect the monitor. If you have a wide-screen TV just connect the output video connectors straight into the receiver. If you have a heavier TV make sure that you have more than one person helping you. Isn't that why you purchased the home theater system in the first place?
Now the speakers can be connected. If the wires are not connected they need to be installed. Make sure that you have the correct wires to the right speakers. Our trained professionals have a keen eye for wiring to get it installed correctly.
Now the fun begins. You other components can be connected such as the blue-ray player, DVD systems and video games. Soon you can spend date night watching movies and listening to music. Installations are best when they are completed by Far West Electric.
Before turning the unit on, make sure that your speakers are positioned correctly. Speakers should be positioned behind the audience for optimal sound. Also, the speakers to the right & left should be in place so that "surround" sound can occur.
Test the sound out. Many home theater systems are equipped with a menu options for checking sound on each separate component. For the best sound and picture options, please call Far West Electric for the installation of your home theater.
When it comes to experience, we're the electricians that can make sound happen. Don't live with a home theater still sitting in the box months after you bought it. Just call Far West Electric for a home theater installation.
Recent Articles
What Are the Different Types of Solar Panels?

Solar panels are growing in popularity among Escondido homeowners. This environmentally friendly option can help you to heat and power your home without totally relying on electricity generated by fossil fuels. Especially in the dry, sunny California climate, solar panels are surprisingly useful and efficient. If you're considering solar panels for your home, you may...

Read More
If you are looking for Home Theater Installation Services then please call 760-533-6307 or complete our online request form.