Save Money With Solar Panels from Far West Electric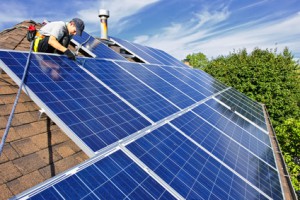 Need more natural lighting in the home or just tired of paying high electric bills? Far West Electric has the answer; solar panels will cut down on all of that while introducing your home to a new and environmentally friendly concept.
Before setting out to have them installed in your home, you should make yourself more aware of what they are and what they can do for you. Installing these panels will help you cut down on energy usage while lowering your monthly energy costs.
Solar power is considered to be a renewable energy resource. I t is much comparable to wind and hydropower. We'll never run out of this resource as it's forever going. Theses panels will work for you as once they are installed, they are self-sufficient.
Solar energy is not just for heating homes. It has been known to heat in ground pools as well as recreational vehicles. There are lots of great uses for solar energy in the state of California. To find out more, call Far West Electric for details.
A little background into Escondido solar energy; solar cells were revealed by William Adams in 1876 as the term "solar" literally means to harness energy. The type of energy Adams was referring to was the sun's energy.
Here is How Solar Energy Works:
Separate charges – By separating negative and positive charges along a semiconductor, solar energy is converted into electricity.
Doping – Doping is the term that defines the process of bombarding crystal wafers. This Task stimulates their reaction to solar energy.
Conversion of power – DC is the power output by solar energy. An inverter helps to turn the direct current into alternating current. This is the norm for electricity in the U.S.
Building blocks of cells – The solar photovoltaic device is created from many building blocks of cells. Solar array is formed out of these building blocks.
Light wavelengths – Panels are only affected by certain wavelengths of light. If you need more information regarding panel use please call Far West Electric.
Why should you covert to solar power? Well if you are like most people, you'll like saving money. Let's break it down. If you get 100% solar power from your panels, you will be able to save up to $240 per quarter.
Also, your appliances can benefit from solar power. Appliances such as your freezer, alarm clock, TV and radios can draw from it. Saving money and time can make all the difference in your home and finances. So if you plan on converting your home to solar panels, just call Far West Electric.
Recent Articles
Most Common San Marcos Electrical Issues

When buying a home in San Marcos, it can be difficult to know everything you need to, which often means there could be existing electrical problems that you don't know about. Some of these can even get past a thorough Electrical Safety Inspection because they are in the walls or underground. Even if you have...

Read More
Electrical Safety Warning Signs

It is hard to imagine an everyday task that we do that is in no way assisted by electricity. Without a doubt, your electrical system is one of the most important features of your home or business. This marvelous convenience is largely responsible for the high quality of life that we enjoy and for sustaining...

Read More
If you are looking for Installation of Solar Panels then please call 760-533-6307 or complete our online request form.