Why Electrical Repairs Should Never Be A DIY Project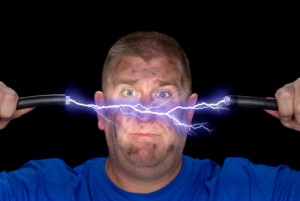 Do-It-Yourself projects are more popular than ever, and it's not difficult to see why. They allow homeowners the benefits of improving their home while focusing on activities they enjoy, all for a lower cost than hiring a professional. They're satisfying, they can be fun, and they'll leave your home in better shape.
However, there are some things that homeowners should never attempt to take care of their own, and electrical repairs are a primary example.
Working with electricity in any capacity is extremely dangerous, and any electrical repairs need to be handled with extreme caution. At Far West Electric, our Escondido electricians have the experience, skills, tools, and knowledge to handle any electrical repairs safely, and we caution all of our clients to never attempt any electrical repairs on their own. Without proper training and extensive experience, attempting this type of work can result in serious injuries or damage to your property.
Why Hire A Professional Electrician?
The most important reason to hire a professional electrician is to ensure that no one is physically harmed during the course of the work.
Another reason is that many electrical repairs require a permit, and it may be a legal requirement to hire a licensed professional. For instance, any wiring jobs need to be up to local, state, and federal codes and standards that only a professional will be able to ensure. Even if this doesn't seem like a major problem to you now, it will be a major issue if you ever attempt to sell your Escondido home.
Which Electrical Repairs Are Safe As DIY Projects?
The average homeowner should only ever attempt to work on the absolute most basic and simple electrical repairs. Anything that's more complicated than changing a light switch should only be completed by a professional electrician.
Electrical repairs and installations are one thing that you'll always want to rely on a professional for. Our Escondido electricians will be able to make sure that your electrical system is totally safe, both during the repairs and afterwards.
What's The Worst That Could Happen?
No part of your Escondido home is as dangerous to work on as your electrical system, and specifically, your electrical wiring. It takes only a very small mistake to shock or electrocute yourself when you're performing electrical repairs, and even if you are able to make it through the process without any injury to yourself or someone else, any small mistakes you've made with the system can have detrimental consequences. In fact, according to the National Fire Protection Association, faulty electrical wiring is a leading cause of house fires in the United States.
If you are looking for Electrical Repairs in Escondido then please call 760-533-6307 or complete our online request form.