Why You Should Always Hire a Professional Electrician for a Commercial New Construction Project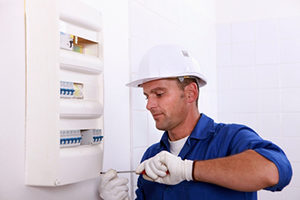 One of the biggest concerns that you have when you're building a new commercial property is hiring an electrician to design and install the electrical system. The electrical system will most likely be very complicated, and you'll need an electrician who can ensure that power will be reliable for many different electrical fixtures.
You also need to know that your commercial electrical system will be totally dependable right from the start. You won't want to hire another electrician once your property is complete to have any repairs performed. Your electrician should be able to guarantee high quality work that will be completed within your budget and your time-frame.
At Far West Electric, our Escondido electricians are all licensed, trained, and experienced professionals who will be able to provide high quality workmanship and professional customer services. We'll be able to help you ensure that new construction is completed to the highest standards of quality.
Benefits of Hiring a Licensed Electrician
When you're building a new construction, it's very important that you hire a professional electrician for the job. There are a number of benefits that only a licensed electrician will be able to do, including:
Know and abide by all codes. Electrical wiring installations need to performed in strict compliance with electrical codes at the local, state, and federal levels. Our electricians have extensive knowledge of these codes, and we'll be able to ensure that your electrical system is in complete compliance.
Get permits. Many of the electrical services that you'll need for a commercial new construction will require permits. Our professionals will be able to get all necessary permits to perform the electrical work on your property.
Custom design your electrical system. Our electricians will be able to work with you to design your electrical system to your exact specifications.
Work with other contractors. Electrical work has to go hand-in-hand with other aspects of your new construction. Our electricians will be able to work with any other contractors to guarantee a great work-flow.
Only a Licensed Professional Can Ensure Your Safety
If your electrician is not licensed, the safety of your property will be at risk both during and after construction. Faulty electrical wiring is a huge risk, and it very frequently leads to electrical fires. Our professionals will be able to guarantee that your electrical system is safe, reliable, and functional at all times.
If you're looking for new construction electrical services, call Far West Electric at 760-533-6307, or fill out our online request form.