Most Common San Marcos Electrical Issues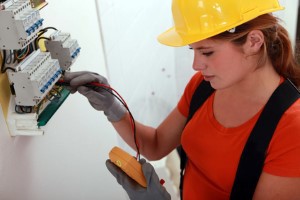 When buying a home in San Marcos, it can be difficult to know everything you need to, which often means there could be existing electrical problems that you don't know about. Some of these can even get past a thorough Electrical Safety Inspection because they are in the walls or underground. Even if you have your home custom built, how can you be sure the contractor did everything up to code and didn't cut any corners?
You want to be able to protect your family, as well as your home, so it is a good idea to know about problems that could exist and that you could be looking out for. If you notice problems, such as having the breaker trip more than once in a short time period, then you should have a professional come out and take a look. Never take chances when it comes to the wiring in your home which can lead to shocks, sparks and even house fires.
Be on the Lookout
So what are some areas you should be concerned about?
Improper wire junctions – Where two wires come together and are nutted, what looks like a screw cap, they need to also be enclosed in a junction box to prevent problems like becoming a shock hazard. Unfortunately, not bothering to box them is a short cut so-called pros take.
Knob & Tube Wiring – Homes that were built before the 1950's used this wiring and should be replaced. Because these systems are brittle they can often lead to house fires. Don't take chances; get the electrical system inspected and have it replaced.
Overuse of extension cords – We have all used extension cords; they are ideal for adding holiday lights. The thing is, they are meant to be used only short term so if there is a system in your home that relies on the use of extension cords, it is time to let a professional make changes suitable for long term use.
Buried wires – There are only certain types of wiring approved for underground burial. If anything else is used, it becomes a threat to everything from water seeping into the ground or you using a shovel in your own backyard.
Trusting the Experts
By working with the Far West Electric team, you can be confident that you are getting the finest in superior quality workmanship. Since 2007, we have been the name that locals in San Marcos and surrounding areas call on for this type of work. Don't take chances when it comes to something as important as the electrical work that goes into your home or business.
If you are looking for a San Marcos electrical safety inspection contractor then please call 760-533-6307 or complete our online request form.