Professional Electrical Service in National City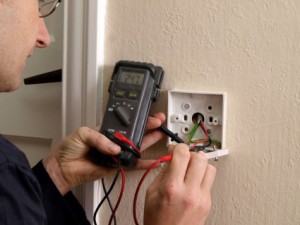 If you're looking for professional quality electrical service, then turn to the experts at Far West Electric. Our experienced and skilled technicians are qualified to handle all types of electrical work for both residential and commercial properties in National City and the surrounding California area. We offer full electrical safety inspections, troubleshooting and repairs, and installation for brand new construction or replacement wiring. In addition, we also provide surge protection, home generators, lighting solutions, electrical service for remodeling and renovations. We are your complete electrical provider in National City!
If you need an Electrician, Far West Electric is your National City Electrician.
Commercial & Industrial Electrical Service
At Far West Electrical we take electrical work for commercial and industrial properties to a whole new level. We offer state of the art products and systems for networking your entire property both inside and out. We are state licensed and certified to do commercial electrical work and have several years of combined industry experience. We install heavy duty cables and wiring, panels, outlets, light switches, and can navigate even the most complex systems. So whether you are a small business owners or are running a major factory, we can help you every step of the way. We do all new construction, major repairs, replacements, and can even perform routine inspections in order to insure that your electrical equipment is running at peak performance!
Repair Service You Can Depend On
On of the reasons home and business owners turn to Far West Electric is because we have established ourselves as the leader in electrical repair in National City. We have performed dozens of repair jobs and are familiar with all types of wiring including aluminum, copper, steel, knob & tube and so much more. We can easily identify damage or weak areas in your electrical system and go to work to repair it in a manner that is efficient, dependable, and affordable. Why wait for mediocre service when you get the best in the business. Contact a Far West Electric technician today and let us help you with all your electrical repairs. You'll be glad you did.
Full Panel Upgrades
Your home's electrical panel is the hub of all power throughout the property. It takes the current coming from the outside and channels it to every outlet. It also controls the amount of power that flows. A weak panel will operate inefficiently and can even be safety hazard. An outdated panel can be a code violation and result in stiff penalties and fines. If you live in an older home and think you may need a panel upgrade then call us today. We can inspect your panel and make recommendations on upgrades that help modernize your home's electrical system.
Recent Articles
3 Electrical Safety Tips For The Fall

Now that fall is officially upon us, most homeowners are taking some time to get out of the house and enjoy the many different things that make the fall season so enjoyable. Whether you enjoy the changing colors of the leaves, the milder temperatures, or all of the upcoming holidays, fall really does have something...

Read More
If you are looking for the Service Areas of a Experience Electrician then please call 760-533-6307 or complete our online request form.