Rancho Bernardo, CA Professional Electricians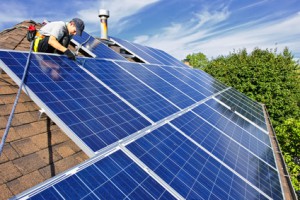 When you live in Rancho Bernardo, California, you're home is located in a great part of the country. You have many things that make this area a great place to live. You enjoy plenty of sunshine, great temperate weather, plenty of places to enjoy the beautiful natural scenes, and plenty of modern living amenities at your fingertips.
With all that sunshine, have you been considering solar power energy as a source of power for your home? With today's technological advances in solar technology, there's never been a better time to start upgrading your home.
If you need an Electrician, Far West Electric is your Rancho Bernardo Electrician.
Rancho Bernardo Solar Power Panel Installations
If you decide to go with solar power, you'll enjoy many benefits. In fact, you'll enjoy the biggest one (no electric bill) so much that you'll be holding back a grin or smile the next time your friends or colleagues mention the cost of their utility bill.
But there are more benefits than just a low or no monthly electric payment. You'll also be helping the planet to cut down on fossil fuel burning and reliance on this type of energy source. Cleaning up the environment can be done, and you'll be a part of this worthy accomplishment.
So consider no more, and pick up the phone and let's get it done. There's no longer any reason to wait to move to solar power, and we can always start out small with a few panels with setting your system up to prepare for future upgrades when you want to add more and really get things going!
Rancho Bernardo Electrical Inspections
At Far West Electric, one of our services provided is the electrical inspection. These inspections are useful in making sure that all of your electrical systems are safe. Electricity is dangerous, and electrical systems that need repair can harm you if the problems aren't resolved.
So inspections are often done for homeowners purchasing homes with older systems and on homes of any age that exhibit signs the systems need repair or replacement. The inspection determines whether your systems conform to legal requirements that meet safety standards.
Have your home's electrical systems inspected once every couple of years, before you purchase a home, or whenever you believe there may be a problem.
Rancho Bernardo Professional Electrician
At Far West Electric, we have provided electrical repairs, replacements, and installations for the Rancho Bernardo and other areas near Escondido since 2007. We've built a trustworthy relationship with our customers based on hard work and dedication with focus on our customers. We believe in going the extra distance with all our services because we believe you deserve and expect nothing less. Call for our expert electrical services today!
Recent Articles
3 Excellent Electrical Upgrades To Make Around Your Home

Now that summer has finally arrived, the prime season for home improvements has officially begun. With so many potential projects on your plate this summer, it can be difficult deciding between what needs to get done in the time available, and what can probably wait until later. As the season starts to shift into high...

Read More
If you are looking for a Rancho Bernardo Electrician then please call 760-533-6307 or complete our online request form.