Dependable Electrical Service In Ramona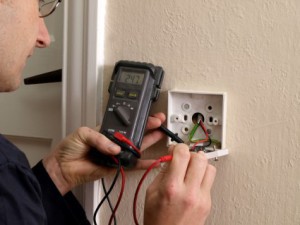 Far West Electrical is a comprehensive electrical contractor that offers a wide variety of products and services for all residential and commercial properties in Ramona and the surrounding California area. We pride ourselves in being able to deliver the highest quality electrical service anywhere in the industry. Our technicians are highly trained, very experienced, and we are fully certified and licensed in all areas of electrical work. Don't settle for less for your Ramona home or business. Contact the professionals at Far West Electrical and discover how we can help you with your next electrical repair, installation, or inspection.
If you need an Electrician, Far West Electric is your Ramona Electrician.
Quality Electrical Repair
As the wiring in your home gets older, you'll begin to signs of wear and tear. This causes your electrical system to run and in efficiently and can also create unsafe conditions throughout the property. Far West Electrical can help restore your old wiring back to new in no time at all with our step by step electrical repair service. We can come in and give your electrical system a complete assessment. We identify all weak components including the wires, outlets, switches, panels, and so much more. We then work to repair all damaged electrical parts and have your wiring system running like new once again.
Electrical Safety Inspections
Whether you are home or business owner in Ramona, it's important to keep up with city and state electrical codes. This insures that you have the most modern equipment allowed while avoiding stiff penalties. Electrical Safety Inspections are a good way to insure that all the wiring and components in your property's electrical system are in peak condition and operating safely. A safety inspection is a point by point evaluation that we perform which covers your entire home or business inside an out. We provide a thorough report of the condition of your system and then make recommendations on what you needs to be done. All of our inspections are handled in a manner that is honest and accurate.
Why You Choose Far West Electrical!
At Far West Electrical, we have built a reputation as Ramona's premier electrical contractors. We perform every job we do with absolute precision and skill and guarantee all of our work. We always present estimates up front so that you know how much every single repair, replacement, or inspection will cost. With our technicians there are no surprises and no hassle. We are dedicated to giving you products and service of the highest quality. When you are ready for electrical service, contact an Far West Electrical technician today, and let us get to work to help you!
Recent Articles
If you are looking for the Service Areas of a Experience Electrician then please call 760-533-6307 or complete our online request form.